Tripawds is a user-supported community. Thank you for your support!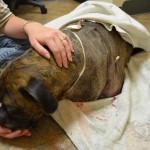 This is Bubba.  He is almost 10 years old and recently had an amputation of the left front leg for a recurrent soft tissue sarcoma.  He has had 4 surgeries over the past year to try and control the growth of the tumor.  He remained free of disease until last winter.  The tumor began to grow again, rapidly.  After his surgery in December 2011, he had complications with the incision healing and developed an antibiotic resistant infection in the leg.  What a mess!  Before the incision healed, the tumor was already growing back.
We spent several months researching probable treatments for his tumor: virus therapy, radiation therapy, clinical trials and amputation.  The only option that would completely cure Bubba of this pest was amputation.  It was a difficult decision to cope with.  Bubba is an old and fat Boxer!  We had concerns about his age and overall ability to adapt to life on 3 legs.  The alternative was to do nothing and watch the tumor and infection destroy his leg until it cut his life short.  It seemed unfair to let a healthy and happy dog succumb to a problem isolated in one leg.
Explaining to our 3 young children that their dog was going to loose a leg was also difficult.  My 8 year old thought we were hurting him and my 3 year old thinks it will grow back 🙁
Finally, watching Bubba struggle to relearn the basics of walking, toileting and eating is hard for me.  He is one week post-amputation and I know we did the right thing.  But, he looks at me with those sad eyes, and I wonder if he will forgive me for the new "rules" we have to follow to recover him!  Right now, he needs to stay confined in a small area, avoid slippery floors, avoid stairs, etc.  It is hard for me to relax without my buddy next to me!  Unfortunately, Bubba stumbled the other day and has been readmitted to the vet hospital.  He is refusing to eat and isn't showing much interest in anything.  I miss him dearly and hope this site will help me through this difficult recovery process.